One slow morning at work, I was looking through the emails as per routine ala every morning when I chanced upon this email from Qingren.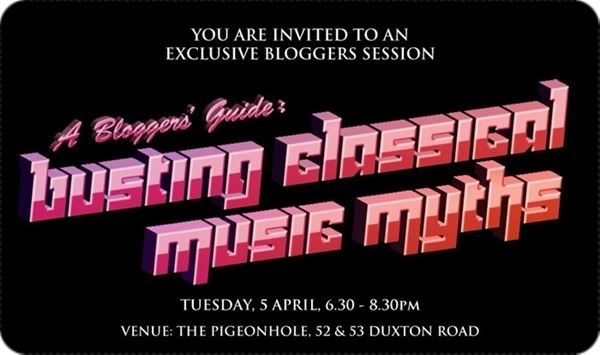 "Classical music? Are you for real?"
That was pretty much the first thought that came into my mind when I scrolled the message in apprehension while downing that morning mocha. Still, much less hesitation later, I sent the "OK, See you there!" reply and then on that cloudy evening on that Tue, I was at The Pigeonhole in the Tanjong Pagar shophouse district. I smell "artyfarty" in the air already.
That said, I love the Pigeonhole immediately.
I was indeed very much well-taken care of once I stepped into the unit. Maggie from Lanxess welcomed me warmly and ushered me to the very sumptuous-looking bagels (smoke salmon anyone?), gourmet sandwiches, wine and beer. Of course, there was also the wasabi chips that garnered raves from everyone. She also shared how Lanxess is very excited to be supporting SNYO to run a mentorship and cultural exchange programme, where some very lucky and talented chosen musicians from the orchestra will be sent to Italy for a training trip.
After the peeps settled down with nibbles and drinks, Kaye Lim from Lanxess welcomed everybody and introduced the special guests - Darrell Ang (renowned international conductor), John Sharpley (multi-talented composer, performer, writer and lecturer) and Olive Kan (representative from SNYO).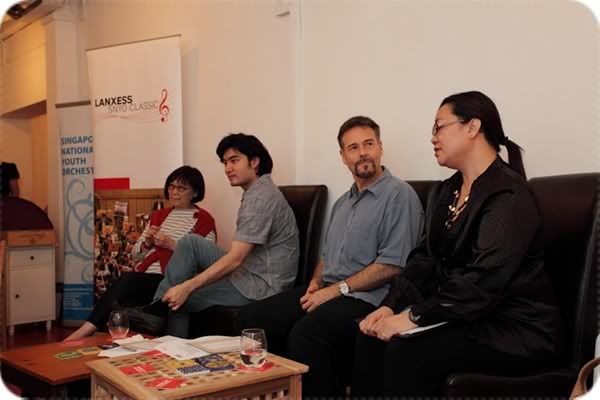 Each guests shared their insights through an informal interview with Kaye and a Q&A with us. Darrell touched everyone present with his inspiring musical journey to become one of the most recognized local conductors who have reached out to audiences beyond local shores. John was able to give us a fresh and light take on various approaches to classical music by some all-time favorite musicians like Debussy. Olive (who is very stylish, I must add) made me smiled by describing her experiences on how she first got involved in music during her younger years plus the trip with the three young talents in SNYO when they visited Italy in mid-March in the cultural exchange programme.
We had fun and laughter trying to win rounds of "taboo" (hint: classical music related!) with the enthusiastic John and winning Lanxess goodies as well. By the end of the game, the atmosphere of the session was heightened much indeed as we laughed over some outrageous guesses.
What's a classical music sharing session without some good o' music?
The three young SNYO flautists (Jasper Goh, Rachel Ho and Tu Siling), who had the honour to participate in the cultural exchange, wowed everyone present with a tune each. I was in complete awe and am very touched to be able to listen to such great live flute music in that small little room that I swore I developed goosebumps all over, in a very good way I must add.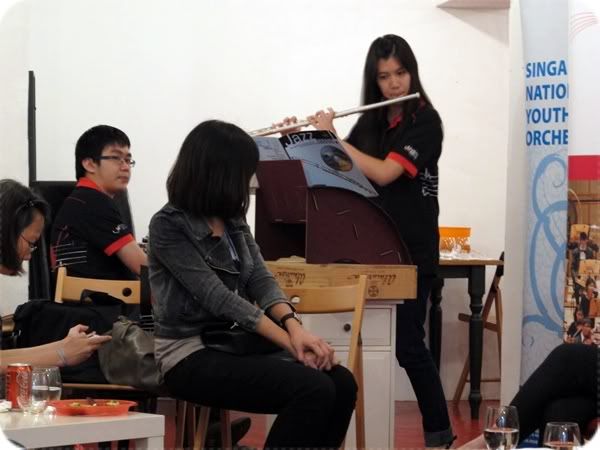 In all, I was glad to have participated in the session where like-minded youth gathered and enjoy great music. More importantly, it was a rare and good opportunity for us to discuss issues like - whether youth who are financially disadvantaged can enjoy access to classical music, how the growth of the Internet has enable more people to discover new music, the avenues bloggers should tap into to discover the wonders of classical music, etc.
It was also a pleasant surprise for each of us to leave with a a goodie bag from Lanxess containing more relevant information in a thumb-drive (documents, vidoes, photographs of the collaboration). Plus... an invitation to the upcoming concert by SNYO! I'm doing a little happy dance already as I look forward listening more from these extremely young talented musicians and also from Lara St John, internationally celebrated violinist.
Interested too?
Feel the chemistry yourself!
LANXESS SNYO CLASSIC 2011 presents
A MUSICAL CHEMISTRY
Date: 21st April 2011, Thursday
Time: 7.30pm (2hrs, including 20min intermission)
Venue: Esplanade Concert Hall
A Musical Chemistry is the public concert for 2011. It is the second concert under the LANXESS SNYO Classic mentorship and cultural exchange programme. Together with Canadian-born violinist, Lara St John, the SNYO plays Tchaikovsky's Violin Concerto in D Major, Op. 35. The concert, under the baton of Maestro Alexander Polishchuk from Russia, will also perform works by Wagner and Franck.
A closer look on the Lara St John, the guest violinist, have been described at "something of a phenomenon" by the Strad, and a "high-powered soloist" by The New York Times. She has performed as a soloist with several orchestras including the Royal Philharmoninc Orchestra in Europe and the Queensland Orchestra in Australia.