I did not mean to disappear for quite some time but just that the past two weeks have been quite
a whirlwind. I cannot really recall what stuff I went through and it is times like this when
my schedule book and photos stuck in my camera. Times are bad and thanks to spending more time
indoors, the outflow of cash is pretty much controlled this month. That is good news, considering
that I will be jetting off again! Yay! It will be a small trip this time though, but I am not
complaining. Anywhere outside the Singapore shores for something new to do and eat is always a
welcoming plan. Cookie's family owns a hotel suite in a Penang hotel and a bunch of us will
be camping there for a weekend come April.
My Feb resolution:
1) Eat less bread.
2) Help out in the kitchen more.
3) Do more laundry.
4) Kick start the jogging routine.
5) Bento!
Speaking of bento-ing, I was bored to tears during work today and started blogsurf and chanced
upon some really good bento blogs. Not sure whether it is the novelty, but I am super inspired
to go create my own bentos now. Well, I used to bento to work back then but I did not have
the time, interest, and money to make it all fanciful. So, I head to Daiso after work today
and picked up some really interesting Bento tools. Haha! An hour later and after cashing out
half a day's worth, I head back home with my loot and thinking what a dork I am.
Bugger Thay sent a surprise package from London! I am glad he manage to return to London in one
piece after his tour from Europe. I received the "best chocolate" from London, Dark chocolate with
mint from Athens, more gummies and a postcard from Berlin. This really made my day!
Celebrated us surviving the first month of Jan with a super good dinner! It was too expensive!
But we haven't had such a good meal together for so long. Plus, I think our special guests
enjoyed themselves too. Hehe.
I have been really busy helping out with the performance at the temple lately. Mom was simply
beautiful in her costume and makeup! I am so proud of her... Being involved makes me want to
start going back again like those time when I was still in school but the commitment is always
an issue. If I cannot be 100% in this, I rather not start.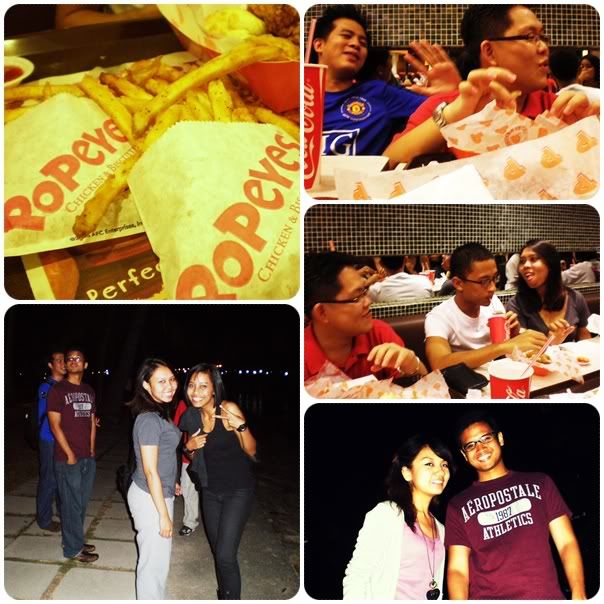 My favourite people! Thanks for such a cool night of stories, jokes, laughter, good popeyes!
Hopefully I did not make anymore asinine comments and be the butt of the jokes that night...
3 Feb was a special day because it is MUSE night! I had no idea that Saosin would be playing too,
but they turned out to be quite a bore. Act two was 'Rise Against', whom I happened to discover
that night and liked very much. Poor cookie was zzz midway through the show. He said he's doing
slow-motion head banging... But, the whole stadium was high and alive when Muse came on. It was
really crazy! Have not I been in my formal and heels, I would be sneaked into the pit like
all the others. I want to attend another crazy concert like this before I get too old! I have
been listening to Muse's videos on Youtube but it just ain't the same! They are really so
mfing powerful live and on stage.
Too bad it was too crowded and I did not have the chance to meet Hahalinda and Niiirrrwan
before the concert starts. I rushed from work and finished my Qi Ji lontong in a record ten
minutes. Well, at least the concert started quite punctually at 7.15pm!
This is quite a strange, unconventional, but still FUN present to receive. Haha. Cab fare of
$40 is a little of a heartpain but seeing the sardine-packed bus just makes me want to puke.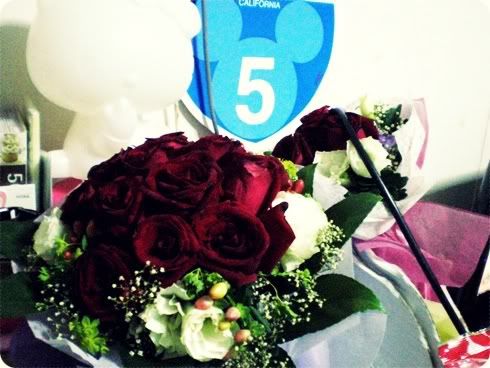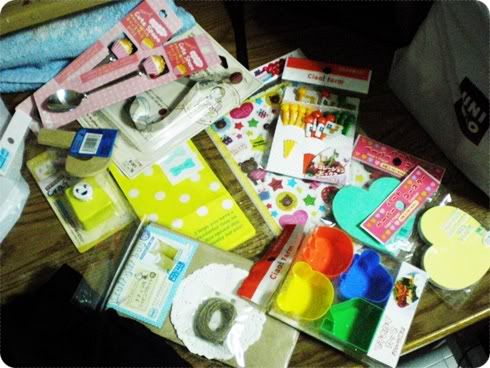 I need more Daiso!