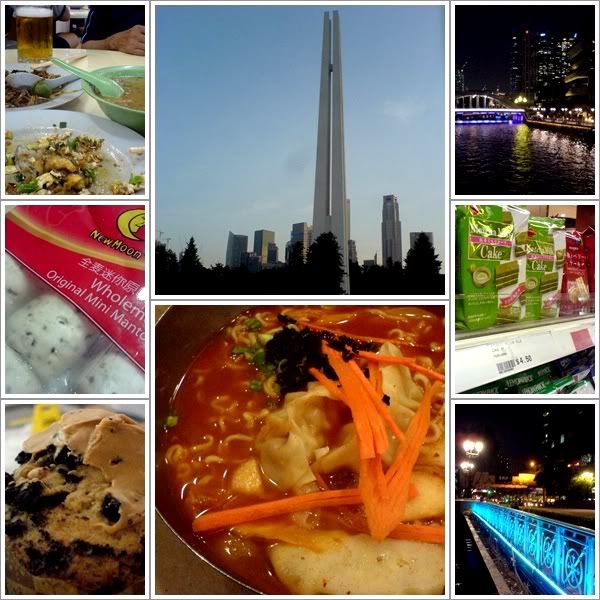 Staple weekend dinner with the family consists of oyster omelette, fried kway teow,
and BBQ sotong with LOTS of garlic, onions and petai. You can be sure how potent
the three ingredients can make your fart smell like. It's a real sinful combi, but
somehow it is comforting to just sit with the rest of the tee-s and just indulge
in good oily hawker fare. Still, I should get the tees to engage in some healthy
lifestyle changes! Time to bring back the celery!
I grabbed a pack of New Moon Original Wholemeal Mini Mantous, which was on sale
during a recent grocery shopping trip. Perfect for late night carb cravings I
tell ya, although I munch on these more than one at one go. Kinda defeat the
"mini" purpose I know. The new NTUC right outside the mall is opened! Yay to
more grocery shopping haha.
So happy to meet my girlies after work for some korean loving at suntec basement.
I missed the place so much since it was joycie's fave lunch spot almost everyday
during our EMC stint. Kimchi for xxth time this week already but I'm not
complaining! :) So happy that ST's back safely in one piece after her adventure
in TW and that Juju is starting her new job in a bigger company. Gotta try the
new astons hehe.
It was supposed to be "Blue Skies Friday" today but still had to OT till 1930.
Speaking of which, I was totally flat out today with the prep work for the first
set of tests tomorrow that I did not even had time for the toilet. Treated myself
to Barcook's Raisin Cheese plus Oreo Peanut Butter muffin on my way home. I
don't get it when other people don't get it that it is ok to eat junk food as meals.
Also dropped by Yamakawa Super for some jap snacks (= matcha!).
Clarke Quay at night is always interesting but cancelled drinkdrankdrunk
plans since I'd rather be at CSC to roll in some big OT money although I
am sure nobody will disagree that reaching Buona Vista at 7.30am will be
a real BIG pain!
I hope Ms Kar can start motivating me to work out as much as she does...
For a start, I hope to make the CQ jogging plans concrete. And I need my
Yakun tea and toast this weekend. It's been too long.
If heaven and hell decide
That they both are satisfied
Illuminate the no's on their vacancy signs
If there's no one beside you
When your soul embarks
Then I'll follow you into the dark