After an almost-2-hour badminton session with the classmates in school on Tue, I practically flew home to travel to expo for some annual dinner by some association. Honestly, my dad attends to many of such dinners since donkey years ago, and as the years go by, the general family interest in such dinners have fallen quite much. But still, got free 9-course dinner, of course must go. The highlights of the dinner were probably the seafood yam ring and red bean dessert (of course). I prefer the usual yam ring with chicken chunks though, and the yam was pretty much tasteless actually. Nothing beats kungbao with cashew nuts! I think the dessert makes or breaks the dinner; if it states anything other than mango or red bean in the menu, I will probably sulk for the rest of the evening and throw tantrum. Sigh, I should not have complained too much about eating too many cze char dinners during the CNY period, withdrawl much.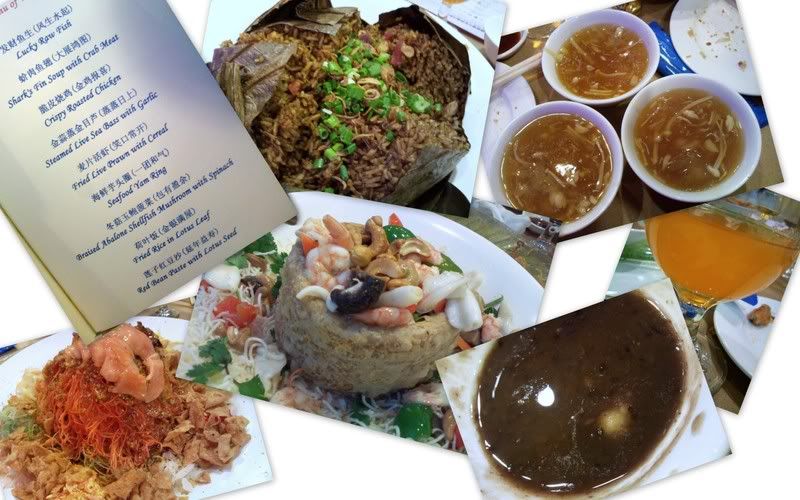 I finally caught Brad Pitt and Cate Blanchett in Benjamin Button just now after making a super impromptu date with qingren. There is something about last minute plans that I like. It must something with the spontaneity. It was a super short but satisfying date though hehe. I liked the movie and can also understand how some people responded after watching the movie saying that it was a little too draggy. The pace was just right for me though. It was quite enjoyable sitting there in the full theater and just following the story. The whole movie was quite an escapism really, and, just looking at events, maybe particularly life, in a different perspective. I enjoyed the performance by Taraji P. Henson as Queenie or Momma too. Worth the 166 minutes of butt-numbing and risk missing the pumpkin carriage home? Yeah I would think so.
Quotes:
Benjamin Button:
Your life is defined by its opportunities... even the ones you miss.
Daisy:
Would you still love me if I were old and saggy?
Benjamin Button:
Would you still love ME if I were young and had acne? When I'm afraid of what's under the bed? Or if I end up wetting the bed?
Daisy:
Will you sleep with me?
Benjamin Button:
Absolutely.
Mr. Daws:
Did I ever tell you I was struck by lightning seven times?
Benjamin Button:
Momma? Momma? Some days, I feel different than the day before.
Queenie:
Everyone feels different about themselves one way or another, but we all goin' the same way.
and one that I think is quite nice and post-it worthy.
Mrs. Maple:
Benjamin, we're meant to lose the people we love. How else would we know how important they are to us?