Wow, in a blink of the eye, half of Jan is gone! Just like that! A little too fast don't you
think? I always thought that Jan is a very special month. Being the first month of the year, my
attitude during this month is always more special than the following months. A month of new
beginnings, resolutions, starts. I must say that the month has started good, so far so good. Hope
it will continue this way. I started 2009 with lots of positivity. Too much perhaps, so much so
that when things do not go as planned, I was pretty much crushed. But still, I believed tho I
lost some, it is undeniable I gained so much more. I am glad I spent the last few days with
the people who truly mattered. It's quite a relief I ended my mom's year well too. Although I
returned rather broke after all the shopping in TW, I knew that I had to buy her the vacuum
cleaner she coveted for so long. It was nice to see Calichan enjoying herself here too. Honestly,
I was quite worried for awhile when she started sounding more down than usual for a rather
prelonged period. Nothing beats seeing the positive Calichan back on homeground! :)
My 2009 so far:
4 Jan
was the first day back to work and it was quite difficult to get the gears rolling
and concentrate on business when the fun TW trip memories were still fresh in my mind. Of
course it did not help at all that cookie was due for his ICT. With nobody to suan within such
a close proximity, I struggled to pull through the official day 1 back to work. Luckily,
the gang and I had a good lunch to kickstart the new year with specials from The Handburger.
This is how I spend my Monday nights! Right after the clock strikes 6.30, I dash straight
home for dinner and then camp in front of my computer for the latest episode of 海派甜心. Swiss
Miss is optional but a cup for dessert usually makes the whole deal sweeter.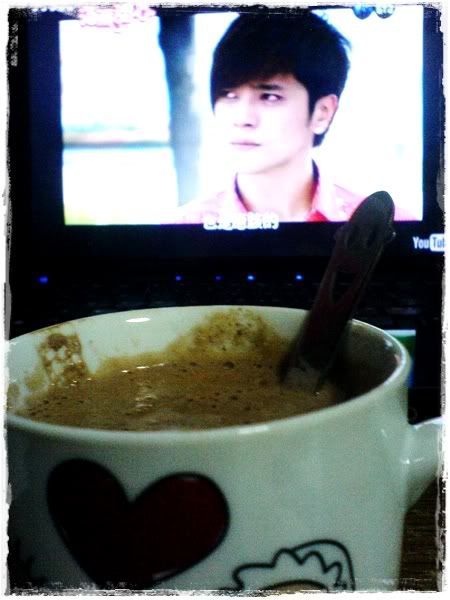 The next day, Qingren gave me a surprise and texted me whether I wanted to go for some Starbucks
loving nearby. How can I resist a date with her? Always a surprise to receive news from her and
we rounded off the night with large fries and her must-have sundae. Awesome short little catch
up!
Random stuff during work.
I love the snowflake thingy cookie got from TW. Oh, and these Doraemon figurine mini cakes were
so addictive and good. You get to decide whether you want to devour the head or its butt first.
It was my first time joining the PSDians for their outing! It was their Staff Appreciation
Lunch at the Flyer. I was planning to stay in office to doing some major resume spamming at
first, but who knew that I was able to get a seat on the morning itself. The original
plan was to get some free makan and run but it was a really enjoyable three-hours I must say.
The food was passable, but what really made my day was the company, surprise from Josh, the
games and entertainment onstage.
The lunch ended at about 4pm and I had the time luxury of taking the bus to Vivo for the KTV
date with the xiaochabors! Sigh, as much as I need the cash from temping, I quite miss the
weekday taitai life - no weekend crowds, weekday discounts, non-primetime TV.
It was chabor's first catchup with Calichan! Lots of laughter and giggles as we reminisce
over the photos from the trip. Of course, we had the good o Java Chip as well!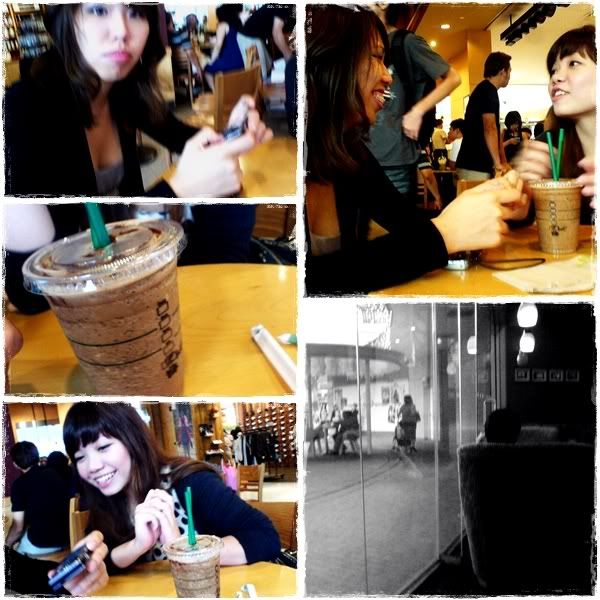 Thanks to sweetie's suggestion, we went to Partyworld located at Vivo's rooftop! As it was
new in town, they were giving out vouchers and we managed to snag a cool 20% discount
off the
total bill.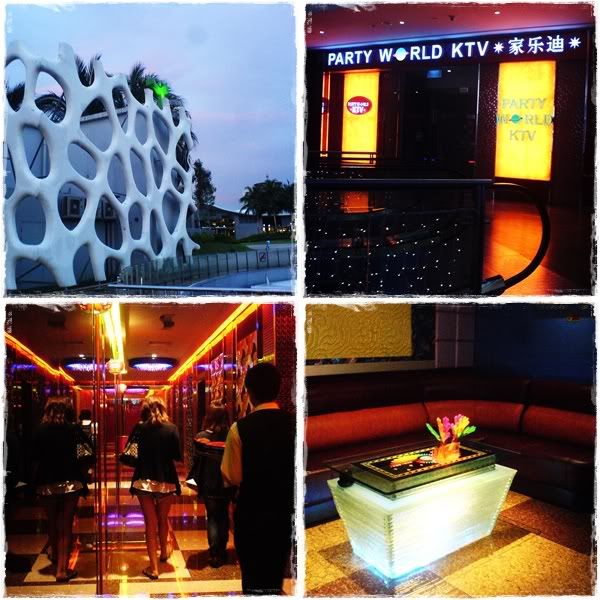 According to him, we shouldn't waste weekends staying at home. Hence,
Hmmm, cookie was raving on and on about how Crystal Jade's Cong You La Mien is a must-try
and so we had that for dinner and it was really YUMMY! Just one bowl of simple la mien tossed
in their concoction of different sauces is enough to make me come back for more. A simple
dessert of red bean pancake to end the night.
7.59pm *Chuckles
Calichan was due to left SIN the next day and on a last min decision, chabor and I decided to
send her off and also pass her the big-feet bedroom slippers we got for her in TW. Luckily,
Calichan is bighearted enough not to take offense in our little joke haha. Hopefully the
slippers will keep you warm and make you laugh in the cold weeks to come!
Before meeting her, chabor and I had an hour-long brunch at Ya Kun. It was a really good
simple chat with comfort food! We should get our lazy asses off the bed on weekend mornings
more often eh.
cookie tempted me with chomp and I could not resist so...
The mango dessert is such a rip-off! I have learned my lesson - just stick to the usuals
next time...
Mom was away for yoga yesterday and this is what I meant that chabor is one call away.
It was quite a shock to see TCC closed for renovation! It never occurred to me how used we
are to visit TCC whenever we are in the area. We treated ourselves good smoked salmon
quesadillas at Coffee Club and... MUDDY MUD PIE! The ultimate sinful, mood-lifting comfort
food! I felt so good that I cabbed home so I can reach my bed fast to sleep with all the chocolate
goodness inside me.