It's not until I twisted my right ankle and pulled my lower back did I realized how much I
take my well body condition for granted. I used to have many unwell friends - friends with
lower back problems, or friends who twist their ankle, or catch a flu every other month.
I pride myself for always keeping a clean bill of health. Sometimes, I do the crazy little
things, like complain how I wish I was sick more often so I can miss school/ work. You can
bet how much I regret my own words when the fever monster finally visits and I will
curse and swear at my own stupidity as another ball of tissue gets tossed into the bin.
Just shortly a week after I completed the Nike race, I twisted my ankle and scrapped my left
knee rather badly that I would mutter all the expletives I can muster whenever I felt my
knee splits when I bend down. Of course, all the activity had to be stopped. When I finally
felt human enough to get on track literally, I pulled my lower back muscle or nerve - not
that it mattered, because all I know is that my back hurts like hell even when I walk.
Walking like a duck doesn't help especially when it is less than a week to TW! Climbing
and walking down stairs is a chore in itself and the most surprising and terrible activity
is, sneezing. To be more specific, sneezing standing up is the most painful as doing so sends
such a painful jolt inside me that I rather go on ten rounds of california screamin - nonstop.
With the TW departure nearing, I want nothing more than my leg well and healed again so I can
walk to my hearts content. I want to walk fast again, and beat the traffic green man when it
shows just five seconds before it turns red.
SIGH.
But anyway, I am really cannot hide my excitement for the trip anymore. I know it's going
to be so freaking good that my mom is going to stop her nagging about how this is not the
right time to travel. There is never a right time. You will never be free enough, or have the
enough spare cash to pack your bags to somewhere. Screw those who are not supportive I say.
I know there are no throngs of the undiscovered dudes in TW like there are in the states
but with fabulous weather that every singaporean is going to be jealous of, all the tantalis-
ing good hawker food, shopping (and more shopping), GOOD COMPANY (in the form of chabor ❤)
, nothing is going to be break the event of the year definitely. I cannot wait for the decade
you know. 2009 has been one hell of a ride, as if I have not mentioned one too many times.
I am just thankful that I survived the year in one piece - losing a few parts of my old life
and gaining new people and experiences at the same time. For what's worth, cheers and hope
2010 and the new decade will be a more fruitful and happy chapter for everyone.
It amazed me how well we can get along in town without tearing each other's hair off last Sunday.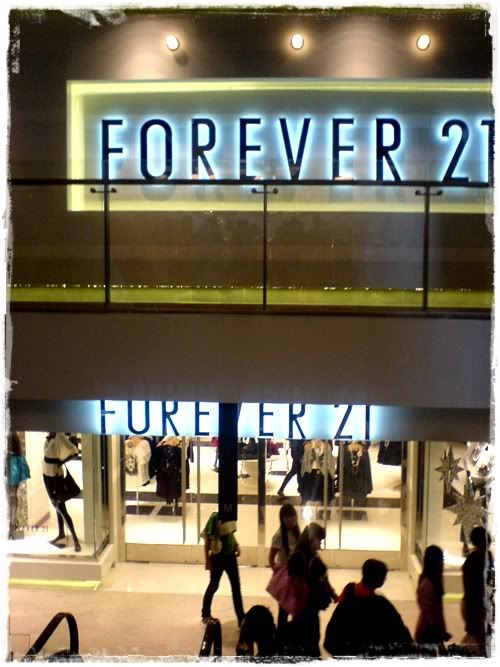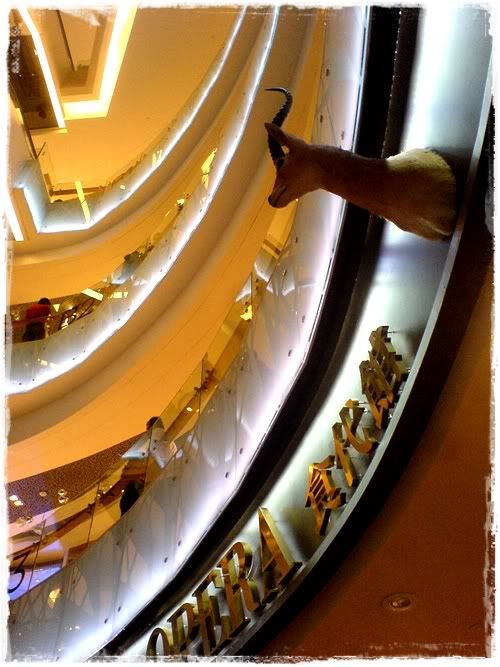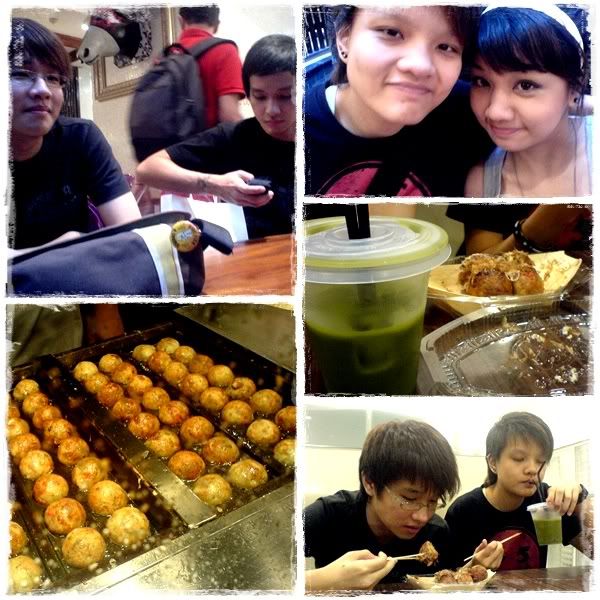 It was super fun hanging out with the kids but I pangseh them for awhile to hang out
with Limster
who was in town too. Chilled with Couples Retreat after that which was so-so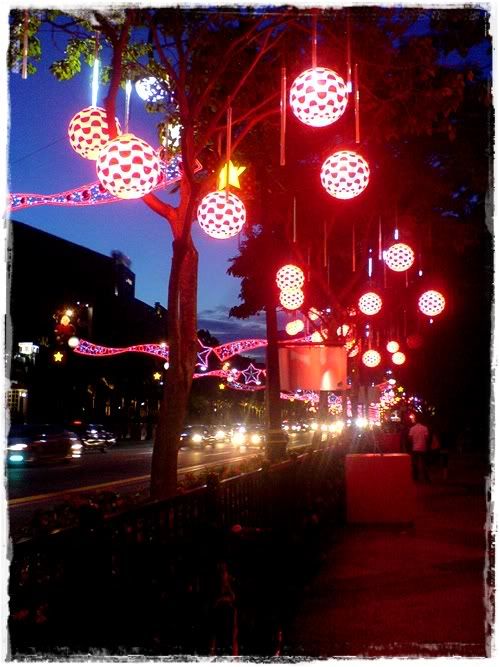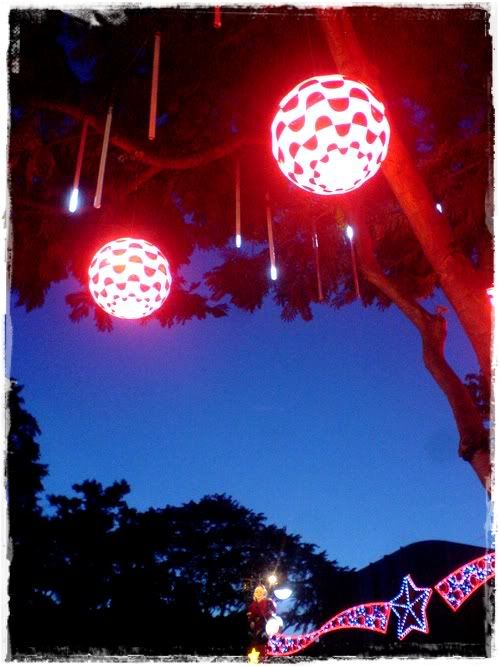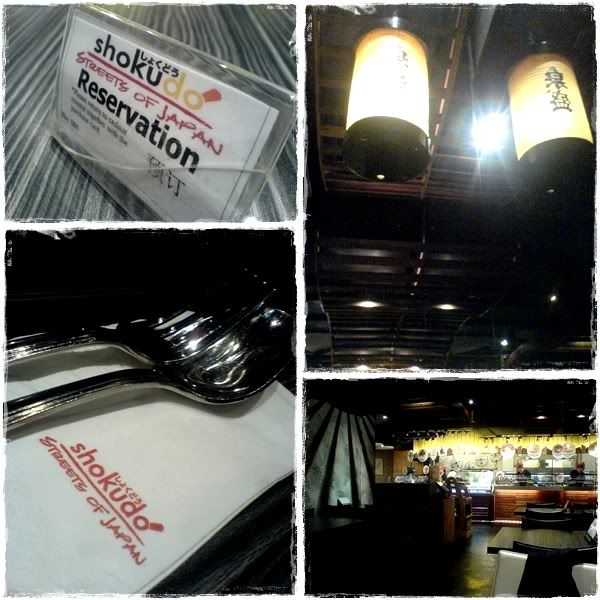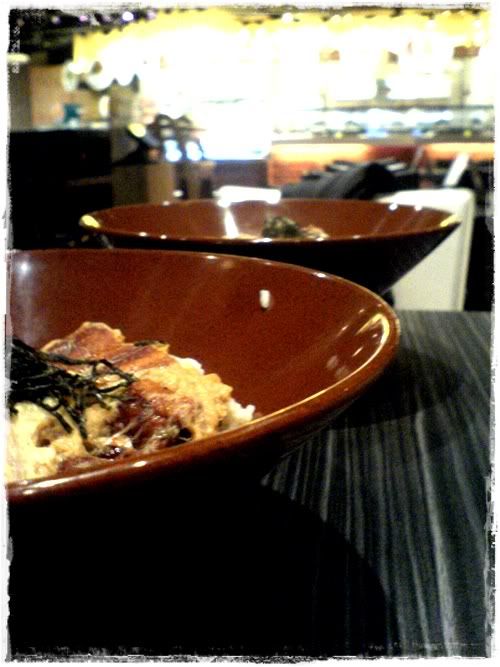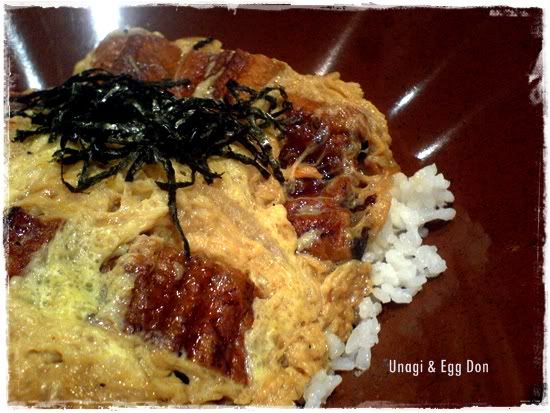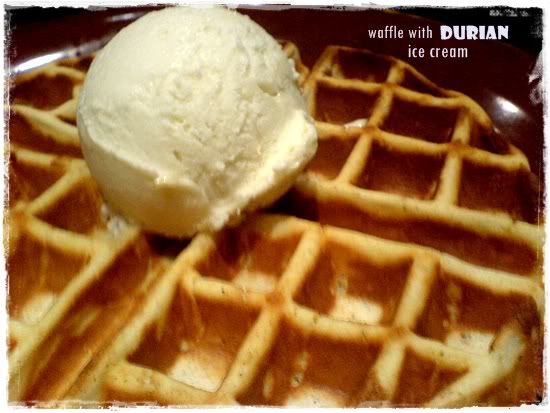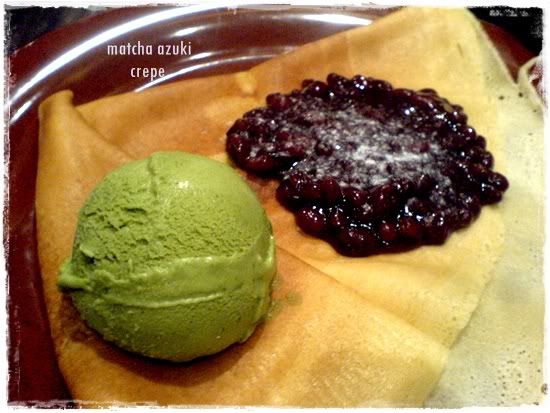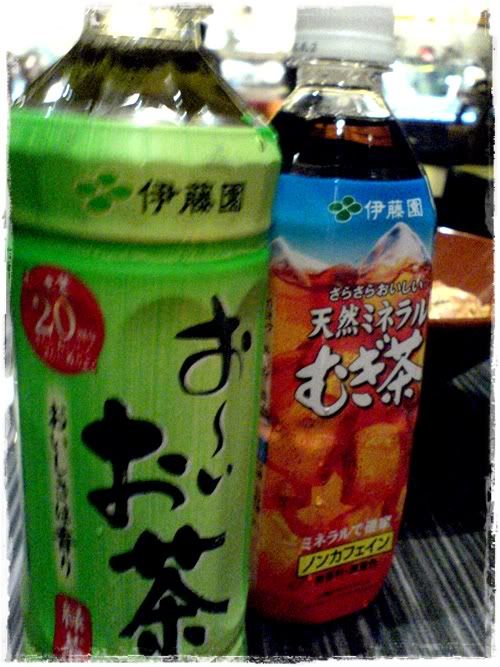 Tuesday lunch at Xin Wang because Mr Ivan is back from London from a visit! I miss that boy
so much I practically wrestle him in the floor when he appeared. This is guy who is not shy
to burp in front of me or suan me till I am speechless or buy me kitkat when I am so down I
have no mood to work. It saddens me that he may not be returning to SG, ever. Mega sigh.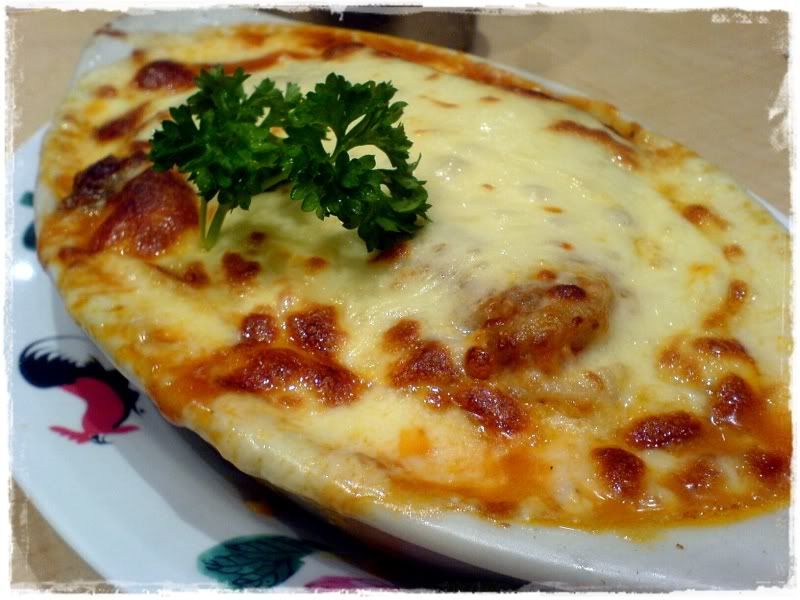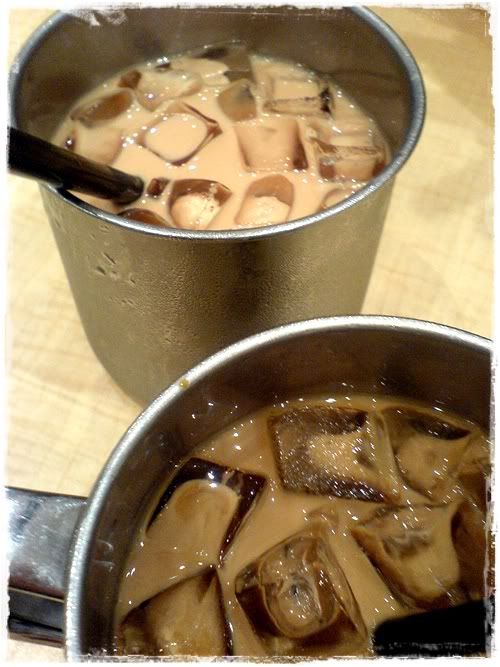 I met up with Chabor to scout for cheap and pretty luggage in Kovan nerighbourhood after
work. Old school neighbourhood shopping is tres cool ok. Round up the fab night with good
o' Pungool Nasi Lemak and the chee cheong fun. The hokkien mee stall was unfotch not opened.
The chicken wing was shiok - fresh and crispy straight from the oil pool.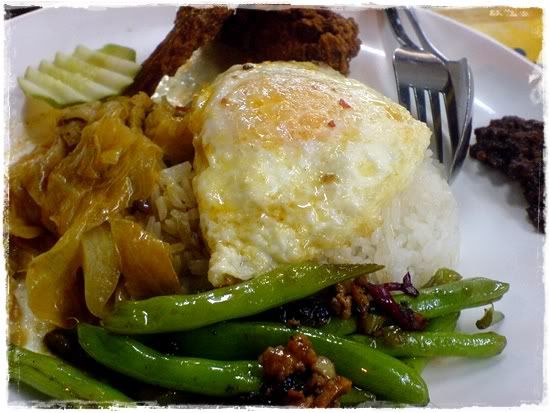 Oh oh oh, I tried IPPUDO already!!
And... I must say that I am a little teeny weeny disappointed considering how much they
hyped up the name and everything. Sapporo Miharu is still the ace ramen stall in my books.
Limster, who was on leave as well, was all excited to try out Ippudo too. He was overall
quite satisfied with their broth and noodles but I was secretly rooting for Miharu in my
heart. I promised to bring him to Miharu so that he can decide for himself which serves
the better bowl.
Still... nothing beats a super bowl of ramen on a weekday afternoon. No work on weekdays FTW!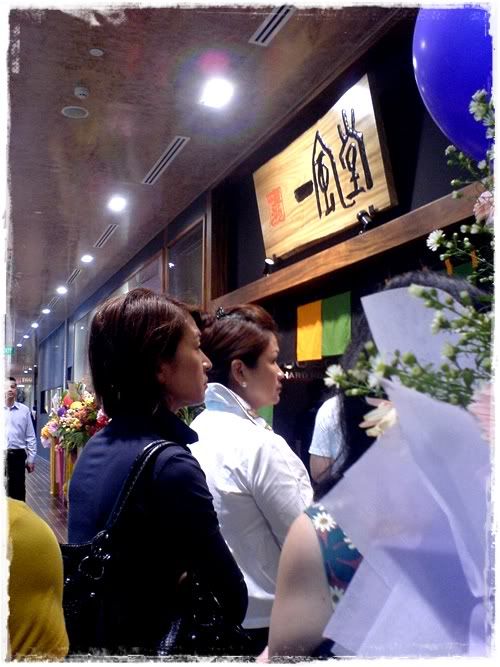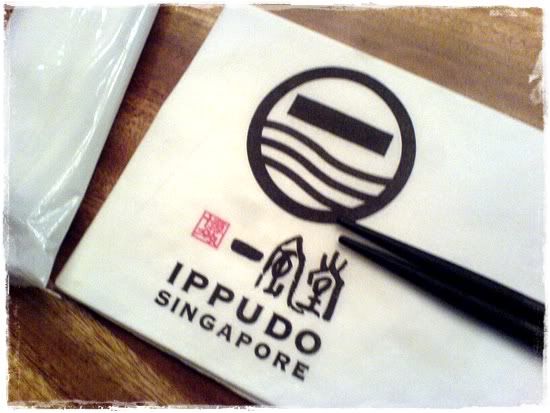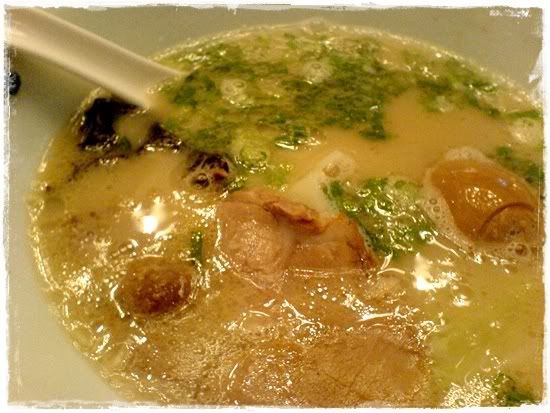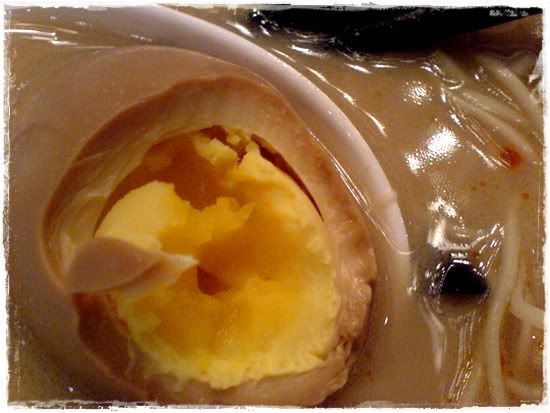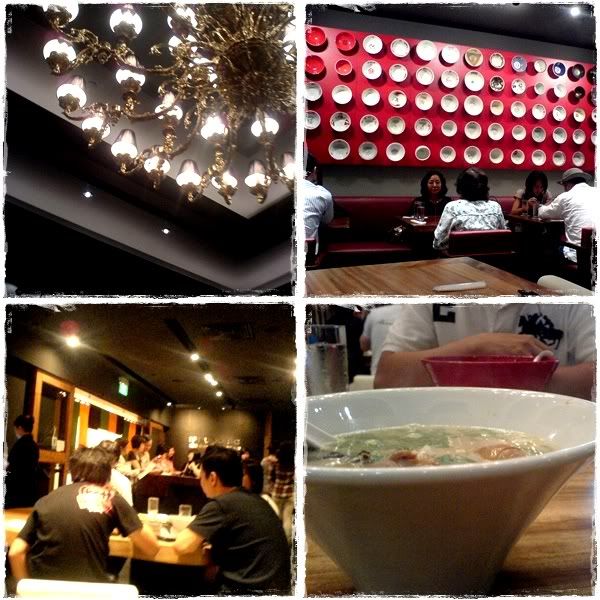 We also caught Inglorious Basterds in front of a noisy construction site before we gave up
and went Kino shopping instead.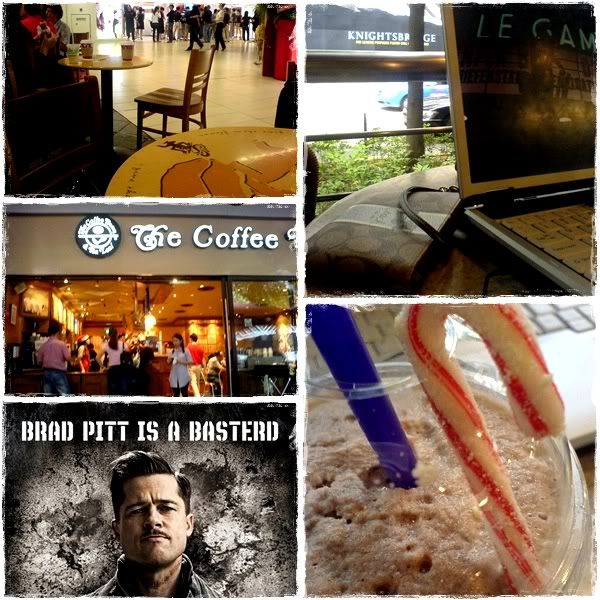 I love the talkcocksingsong gang! We laughed at Leo's stories so hard that I thought I had
the stiches after that. Too bad Cineleisure gaming centre closed early and I did not have the
chance at L4D, but we had the midnight Zombieland to end the night off. I am going to suan
Leo so badly whenever I see dustbins around now. Plus we will be on the hunt for that
butcher singlet. HAHA! These people are the best things that MDIS gave me I think.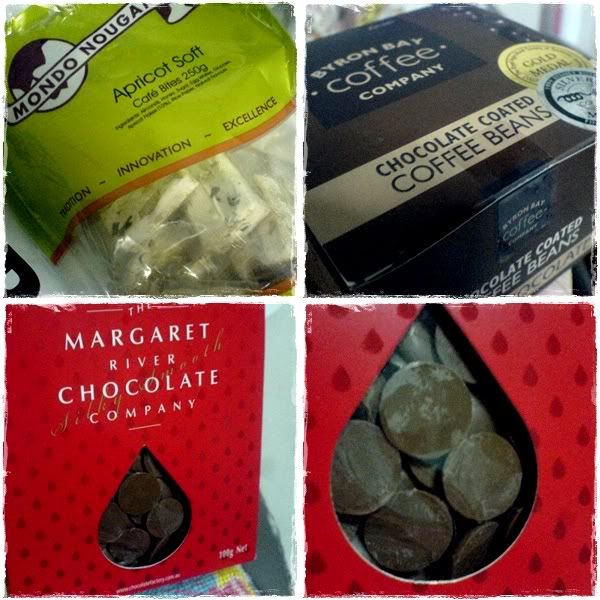 Goodles from Leo from Aussie!
More goodies from kind people everywhere: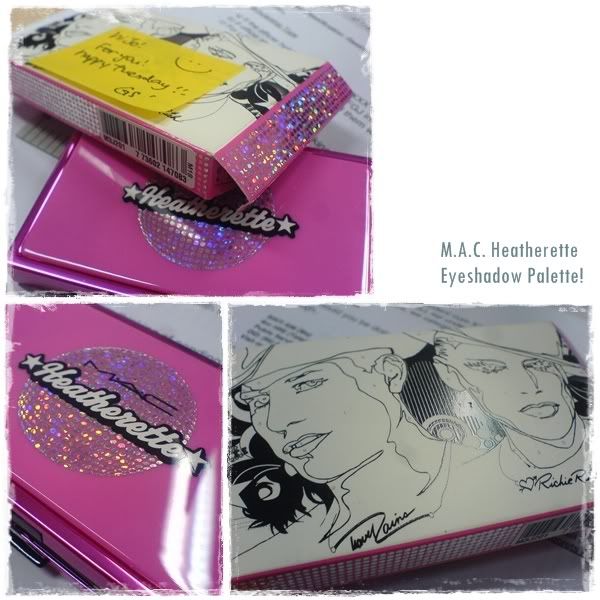 M.A.C Heatherette eyeshadow palette from Ah Gek - perfect for x'mas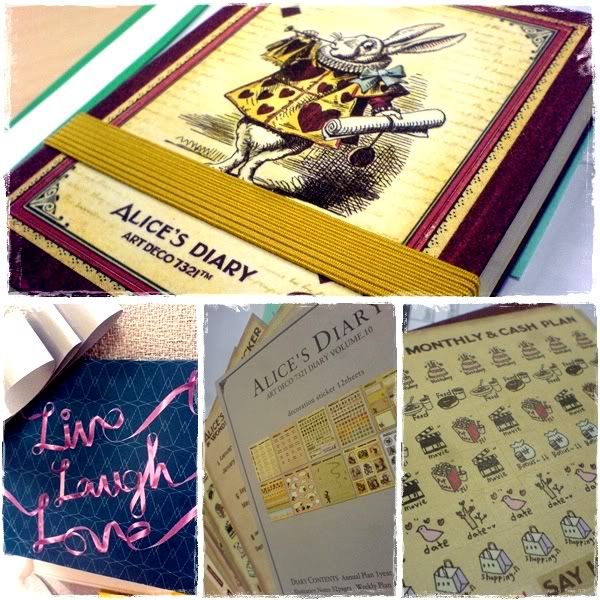 Alice In Wonderland inspired diary with lots of stickers from LDDgirlies.
Very whimsical I like!
Anyway, today was kind of nice. I slept in late and woke up to Class 95 All 80s Weekend.
Cozy up to a book while it's showering outside. Took a break to bake some oatmeal choc chip
cookies before joining the family for curry chicken lunch indoors. I love it when I fill the
whole house with the smell of cookies. Although I know I probably ate too much cookies
for my own good, it was still nice having some me-time and enjoying the comfort of nua-ing
indoors.
Time for some Chomps loving!