Sunday mornings - perfect for brunches with the family, stocking up the groceries at the nearby supermarket without any regard for time, reading the sunday paper with a good cup of kopi.
Only that I missed the Sunday morning, again, with sleep, what else. Still, I had a nice Sunday with satisfying my hokkien mee craving at the mall. Is it just me or has the standard of the mee drop already? They do not fry it like how they used to, it simply lacks something, like a drug that makes me keep going till the last strand of noodle in the past.
Also, I had my grocery shopping since a long time with mom and took the opportunity to stock up on my baby carrots and baking supplies. Gosh, these little things really add up and it was quite bad of me to get so much at one go. Who knows flour, baking powder, cupcake decorations can cost so much. But at least, I did not procrastinate and ended up with these!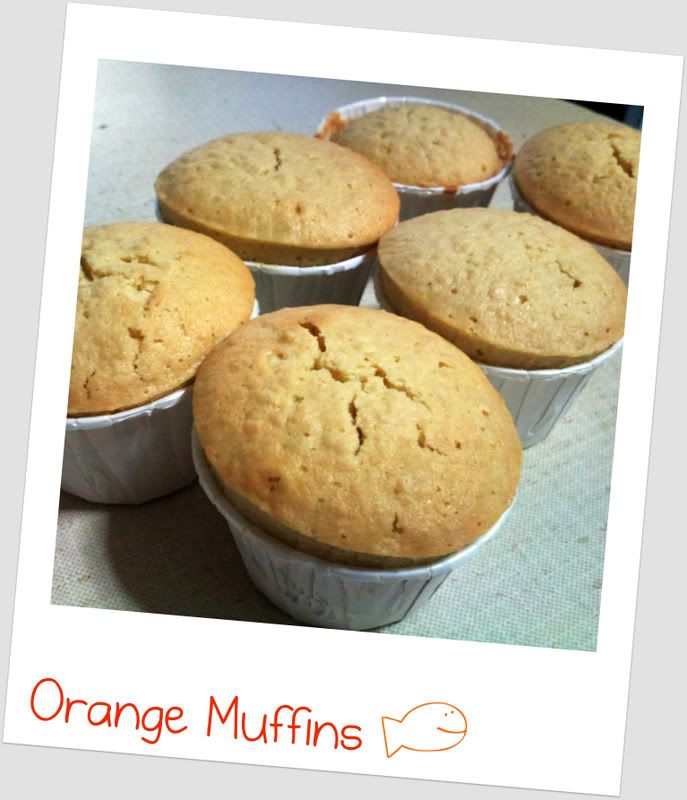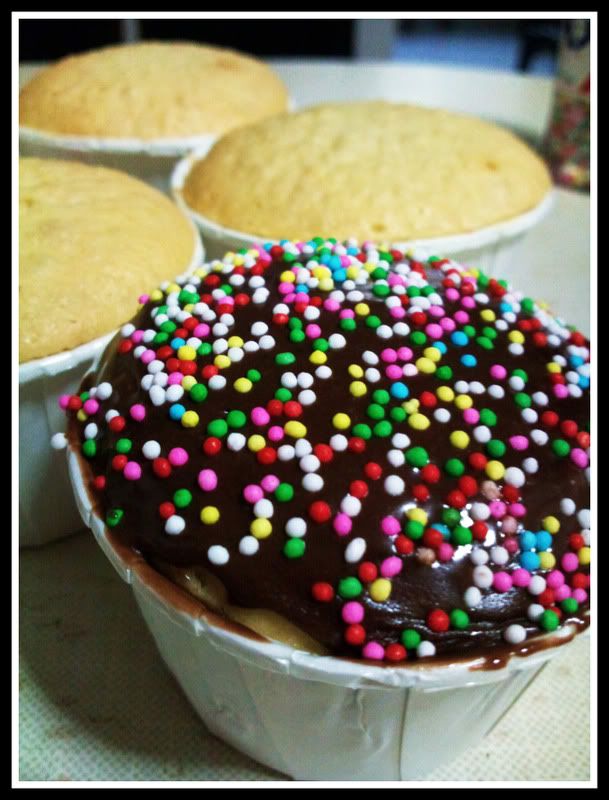 Here is the exact recipe to share. I know many people are very free. Try and tell me whether it works for you and can share a cup or two with me hehe.
Orange Muffins


serves 18 small

* 1/2 cup butter, softened
* 1 cup sugar
* 1 egg
* 1 teaspoon vanilla
* 2 cups all-purpose flour
* 2 1/4 teaspoons baking powder
* 1/4 teaspoon salt
* 1/2 teaspoon orange extract
* 2/3 cup fresh orange juice

Directions
1. Preheat oven to 350 degrees, and line 18 muffin cups with paper liners.
2. In a large bowl, cream butter and sugar until light and fluffy.
3. Add egg, beat well, then add vanilla and mix.
4. In another bowl, combine flour, baking powder and salt.
5. Mix orange extract with orange juice.
6. Add half the flour mixture to the butter mixture, mix well, then add half the juice mixture and mix; repeat.
7. Spoon batter into prepared cups, sprinkle with some sugar if you want crunchy muffin tops.
8. Bake for 25-30 minutes, until golden brown.
Notes:
> I have no idea what orange extract is and use orange flavoring instead. Instead of 0.5 tsp of extract, I substituted it with 1.5 tsp of flavoring. I have a feeling they are the same though.
> I used orange juice with pulp but I think a no-pulp consistency will improve the taste. Gah, I hate OJ sans the pulp.
> I had to leave the cups in the oven longer than a mere 30 min, or else they fail the
toothpick test
.
> Mom commented they were a little too sweet and I had to agree although my sweet tooth was on a high. Because of the extra flavoring I add, I should have drop in a little less sugar in the mix.
> Use smaller cups so that there are more to pass around!
> I did not get the nice smooth texture but an electronic hand whisk should get the task done.
> I used
Betty Crocker Hershey's Rich & Creamy Chocolate Frosting
. It was great, not too rich. I tested and almost whacked half a jar.
> I'm excited to start making plain muffins to doodle on top of them now!
Initially, I was hesitant to bake these in front of my mom because I was least confident that the muffins will turn up well since this is moi first attempt to use the oven for something other than mere cookies. I kept telling her that this batch will surely fail and that she better not get her hopes up too high. Of course, I am quite happy they turned out pretty OK and dad even take a bite although he absolutely abhors such sweet lil things. Keke.
Time to find/ dig/ steal my camera battery charger! >.<