It was 7 pm+, and I was experiencing the post-dinner boredom after my xxth round on Guess The Sketch on facebook. The sudden impulse to do some baking hit me so... I ran through my list of recipes and this one caught my attention. It seemed interesting and simple enough, and I ended my night with these.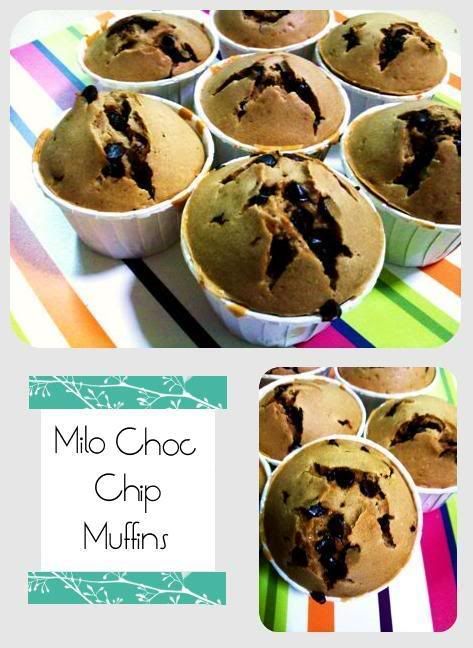 Milo Choc Chip Muffins



Ingredients(makes 9 big muffins)

270g self-rising flour
30g Milo
1 teaspoon baking powder
55g butter
80g sugar
150g milk or semisweet chocolate chips
2 eggs, lightly beaten
225ml milk
1 teaspoon vanilla extract



Method:


1. Preheat oven to 200 deg C. Grease a 12-cup muffin pan or line with paper muffin cups.
2. Mix the flour, Milo and baking powder in a large bowl.
3. Rub in the butter until the mixture resembles bread crumbs.
4. Stir in sugar and chocolate chips.
5. In a small bowl, whisk together the eggs, milk and vanilla extract. Pour the mixture all at once into the dry ingredients. Mix quickly until just blended. Do not over mix.
6. Spoon batter evenly into the prepared muffin pan and bake for 20mins or until golden brown, and a skewer inserted into the centre comes out clean.
7. Cool in the pan for 10mins then transfer to a wire rack to cool completely.

Source

The muffins turned out to be the ugliest and non-appetizing because:
- I substituted all-purpose for self-raising flour, but did not add more baking powder which I should. The muffins did not
huat
as nicely as I expected in the end. >.<
- I ran out of normal milo and had to use milo mocha, which I thought was better, but was not in the end. I am guessing the normal milo will release a stronger cocoa aroma.
- I realized I did not have vanilla extract at the last minute and used vanillin powder instead.
- Mom thought initial batter was too gooey and suggested adding more flour. Bad move.
- I over-mixed as a result.



Still...
the chocolate chips were so good especially when they are melted and hot. Great supper with milk in the midnight!


他们很丑, 但是好吃!
Note to self: Sleep early!