I had one of the best dinners in a long time last week at Pizza Hut, thanks to Brad Ladyironchef.
After exchanging MSN conversations with him for close to a year, we finally met. It is quite funny
meeting him in person instead of seeing his face in pictures and hearing his voice instead of
the usual words we exchange online. We must meet again soon for some good food.
Of course, I was very lucky to meet four other foodies then who sat at the same table as me. I
must say that there was not a single moment of awkwardness between us throughout the dinner and
we converse like old friends, from job woes to Jack Neo to hidden food spots in Singapore.
At the end of the night, we exchange numbers and let's see whether fate will bring us all to-
gether again then.
The highlight of the dinner was undeniably the new dishes we were about to try that night!
For starters, we had the
Oriental Salad
.
A healthy mix of iceberg and butterhead lettuce, red cabbage, capsicums, cherry tomatoes and
black olives sprinkled with parmesan cheese and herbs. Served with your choice of cool lime
mayonnaise or BBQ sauce.
$6.90
We had this with the BBQ sauce and no complaints about the salad. The lettuce was fresh and
crisp and was a welcomed appetiser for the main courses to come. Chicken karaage served in
the salad garnered our raves too as they were served hot and crispy. You bet we finished
this real fast.
When the
Baked Beef Balls
was served, all of us went "wow".
Yummy beef balls baked with mozzarella cheese and smothered with creamy alfredo sauce.
$5.80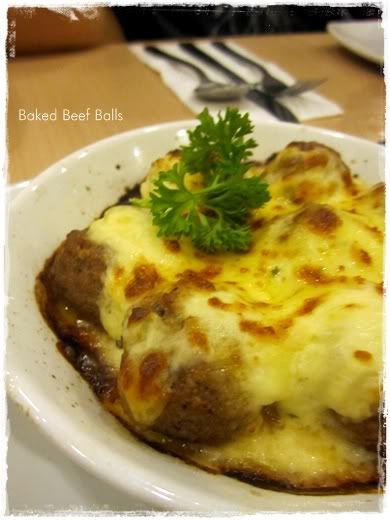 I liked the size of the meatballs cos they were too big and perfect for sharing! I thought
the cheese can be more "cheesy" but I guess they toned down the taste to complement the local
palette. Still, we had seconds for this cos the gooey cheese was too hard to resist.
One more appetiser before our main course comes...
Chicken Riblets
.
Savoury mid-joint chicken wings coated with honey and roasted till golden brown.
6 pcs $5.80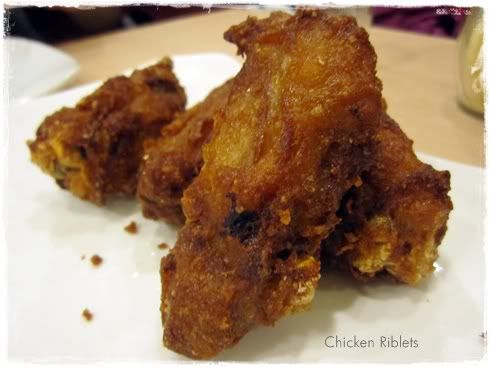 Up next, the main dish everyone were waiting for arrived. The new
Soft Shell Crab Crabbiatta
!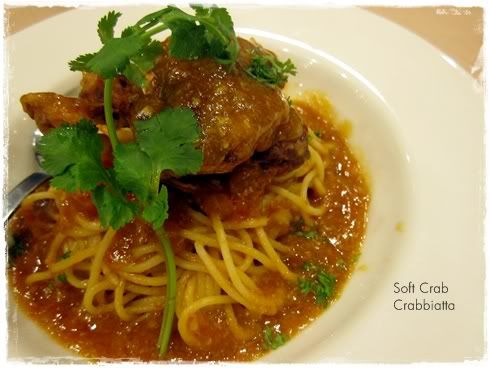 Marrying succulent golden fried soft shell crab with al dente pasta over a luscious spicy sauce,
our all-new Soft Shell Crab Crabbiatta gives your favourite ocean delicacy a mouthwatering
twist.
$12.90
This is the highlight of the dinner and is also the highly-anticipated dish that everyone
were excited to try. Imagine our shock when we knew that we will be served one full serving of
the pasta each. The portion was definitely good enough for sharing in my opinion. The first
impression that hit me when this was served was the strong aroma of the chili crab gravy. The
soft shell crab with the al dente spaghetti was substantial enough to satisfy. I was pretty much
happy with my pasta that I told myself that I would come back for more before the catch is
gone on 30 April 2010.
We also had the
Thin Crust Hawaiian
pizza.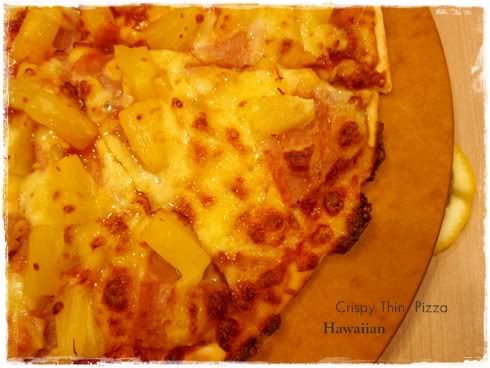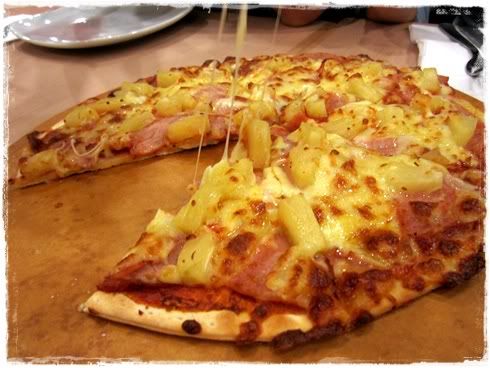 I am sure that almost every Singaporean can associate Pizza Hut with pizza more natuarally.
The pizza did not disappoint of course, although I found the dough not as tasty as I expected it
to be. I still prefer their normal pan pizza for the chewy, doughy texture!
The kids had the kids meal which look great if you ask me. This is the
Mighty Chicken Meal
.
You bet the kids are happy with their starry munchies and chicken nuggets. What a good idea
to top the nuggets with Parmesan haha!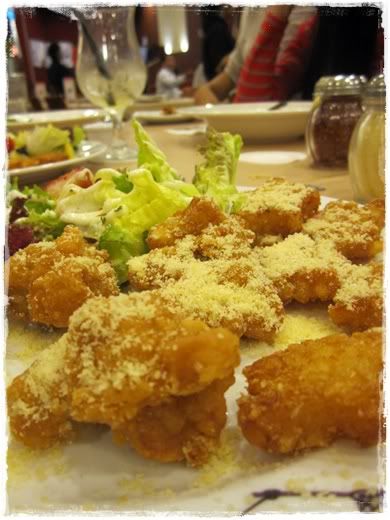 Our table tried a few drinks from the Zesty Fruit Delight range, including Strawberry
Paradise, Green Harmony, Mango Tango, and I had the
Passion Fusion
.
One of us ordered the
Cafe Mocha Latte
and when it came, the rest of us ordered one each for
ourselves too! I have a weak spot for mocha and although this is quite a nice sweet treat to
go with the pizza.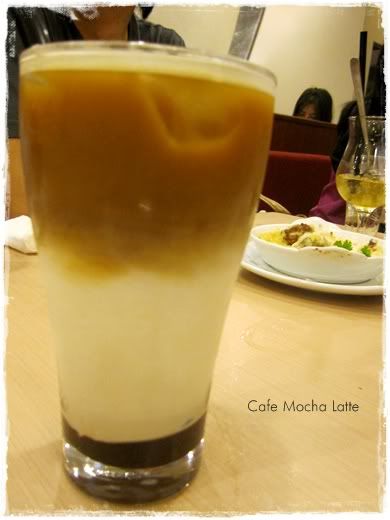 Desserts was a nice pleasant surprise and a machination from the Pizza Hut staff to score some
brownie points before we go. I must admit I had very high expectations for the
Warm Chocolate
Cake with Ice Cream
,which could be the reason why I was a little disappointed when I tasted it.
We poke the cake through to the middle expected chocolate sauce to ooze out but there was only
gooey chocolate in the middle of the cake. Still, I must say that the chocolate cake was sweet enough
to make me happy.
A petite finale that's big on indulgence – every mouthful of our warm, molten chocolate cake
paired with vanilla ice cream will be oozing with unforgettable sweetness.
$6.50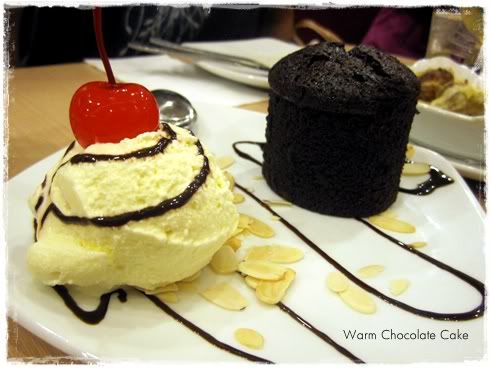 A Tale of Two Temptations
was the last machination to please us. Not a shabby effort for the
price although I must say that there are better cakes out there.
$5.50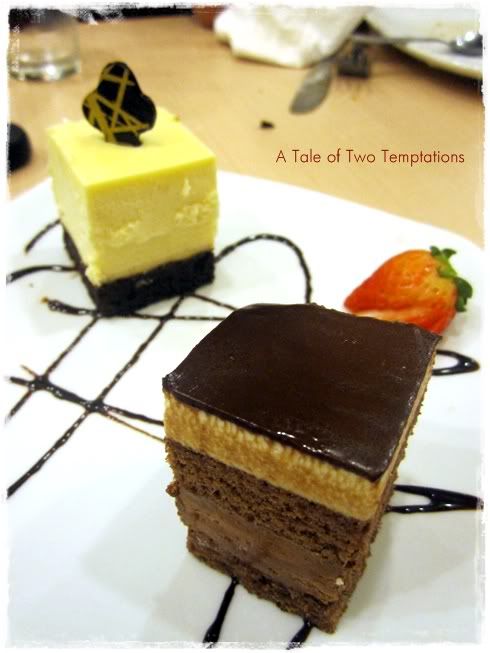 Of course, we left the place very satisfied with the good food and the really good comapny! I'm
inspired to make some pasta this weekend too. I must say that it was truly a super nice experience
meeting fellow foodies that night. It is really a special feeling that I have not felt before
since this is the first time I attended Brad's programme haha.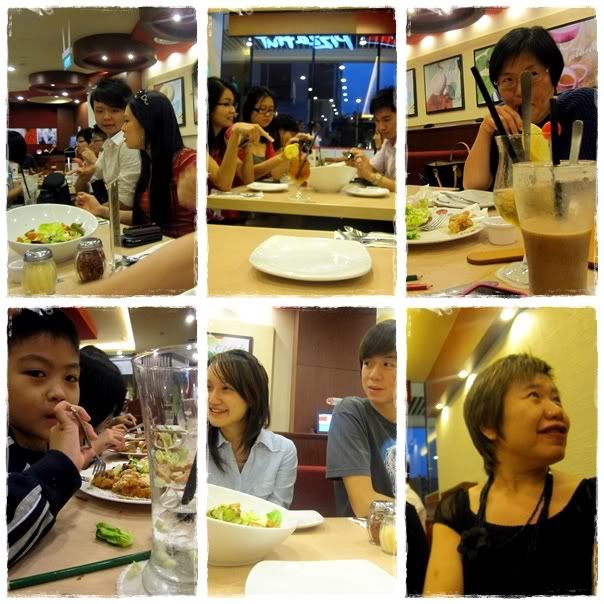 Check out more details of the very yummy Soft Shell Crab Crabbiatta here!